The Club Off Road
Bulldog Trophy 2005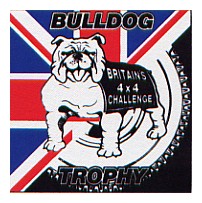 A bit of a cheat here really. Below is the regular 'post event' letter that was sent to all the Redcoats and entrants for this years Bulldog Trophy. It is as pertinent to others as it was to them so I can justify it on those grounds but there is a little extra added as one of the few advantages to a website is that space is not at a premium as it is in written communications, a quaint method I accept, but still one that has a little more weight to it than the electronic variety I believe.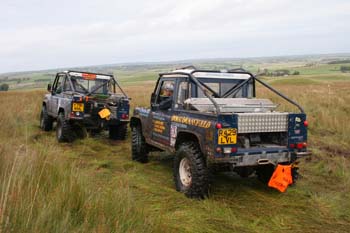 Eventual winners Doug Dransfield and Karl Frost having one of their very few quiet moments high on Mill Rig. (All pictures in this page are courtesy of one Dickon Siddall, gentleman of the White Rose county and ace snapper of the 4x4 fraternity. See his website details below for the complete cornucopia of Bulldog 2005 pictures.)
Did the earth move for you? Well we certainly moved quite a bit of it if the amount of Drumclog now residing in my silt trap is anything to go by. In part of the preamble paperwork prior to the event, (the stuff you always intend reading but never quite get round to and then wish you had?) there was a statement. 'Even with this years somewhat smaller entry list I still think 46 vehicles makes it probably the biggest of its kind, whether it is the best is for you to decide'. Well unless my ears deceived me then it would seem that a large majority of you thought that it was the best in Bulldog terms and that is more than just gratifying, it gives a warm pink glow of pride to this bald head, (which begs the question, head red or red head?) It was also extremely gratifying to hear such spontaneous and vocal support for that doughty band of heroes, the Redcoats. Let me just go off at a tangent there for a moment. And give you a quick overview of their roles and journeys in no particular order.
Martin Jones. Only just got his licence but has been a junior Redcoat with Colin Jones for years so knows the ropes inside out. Brought his SJ from Northampton to help out. Recovered a stranded spectator (using my 90) beetled about on Mill Rig and helped bring in punches from Prison Rough, fetched and carried to and from task marshals all weekend. Wants to enter a challenge event and show you lot a thing or two, he might just too. Martins mentors Rick and Sue Noyes. Established duo on our events both as entrants and marshals. Brought their V8 110 (and caravan) from Northampton. Took the flak at the bottom station of Saturdays Mill Rig which was always going to be an excitable post, as well as marshalling the pipe task on Sunday. Ian and June Herron from Newcastle. Was chosen for the top post at Mill rig on account of his 90, winch and Simex tyres and his charming habit of always saying yes when I ask for volunteers without asking what the job is first. Set off on Friday to check the route and was recovered from the subsequent 90 sized hole about ten minutes later by Rick. A double pronged effort early Saturday with twins Pete and Mark Braggins in their 90 ended in success for Ian but a breakdown with a fuel pump problem for the Braggins. They eventually left Drumclog Sunday morning courtesy of the AA en route to Northampton. The latter used Martins SJ to go and fetch the required parts whilst Ian & June commenced an 8 hour shift on't moor. The promise they had to make before starting out was simple. If the vehicles don't make it someone has to be on that top gate on foot by 1030… it would have been done if neither had made it through too. Steve Wilson. Our medic and general factotum. One half of the results team and given a myriad of starting tasks as we like to keep him spare from a full task in case his medical skills are required. Legally he can only be called a first aider but if I tell you that his previous perch was on a front line air rescue helicopter you'll see that he's a good man to have around, West Yorkshire based. John Halford. Has recently had to let his Jeep go and move to more economical transport but still made the journey from his native Shropshire. Scoring and timing duties as well as a calming influence on more excitable members of the Redcoat crew…. Who me? Brian, Yvonne and Matthew Cutter, Newcastle based. Their Discovery has been all over the UK with CoR. Start marshal at Prison Rough in the afternoon and helping at the same venue Saturday night. Trials section task on Sunday, Matthew looks like he's next in line for the Discovery keys. Alan & Gordon, (our second set of Cor twins), Craig from Aberdeen. Again long time followers of CoR having been on Irish, Scottish and English events as entrants and marshals. Their 90 manned a night section on Saturday night and then played speed cops (a job at which they are well suited having a keen eye for likely miscreants as well as a good judge of speed, especially across our measured half mile) as well as general help putting up and taking down on Sunday. Wooler's Wendy Smith can't even drive but still makes a damn good marshal, once we'd put hubbies motor in place for her. Kept you all in line on the prologue and presided over a trials task on Sunday as well as helping out with paperwork (of which this event generates copious amounts). Isle of Wight was the starting point for Barry Worsfold and his Range Rover. Barry's not a small chap so can be used for all sorts of unlikely tasks but this time it was punch card affixing and speed section marshalling. Andy & Gill Robinsons have both entered and marshalled these events. Based at Stockport their 90 is regular attender at the Bulldog and Andy has a nice line in what can only be described as silly hats. Timed the prologue speed run and then did the log winch on Sunday. I hesitate to mention Harry Haigh indeed it seems safer not to as I can get carried away when describing my mate of some 34 years, and we still have a domestic at every event. Ace man in tight corner. He collected the Series 3 that many of you had the joy of driving, towed it to Scotland and then, much against his wishes, had to bring it all the way home again.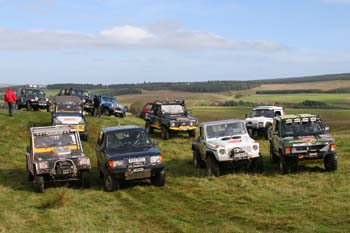 Mighty Merc, Raunchy Range Rovers or Interesting Ibex? Take your pick.
I can't help thinking what a peculiar sight our little convoy made. Red V8 90 and caravan up front. Blue Discovery and white control trailer next with Harry's Disco and S/3 on trailer behind. Tail end Charlie was Keith Bettis with the TD5 90. What you have to ask yourself is what would you think if we pulled up outside your house? The latter Redcoat was the man who arrived at my house from St Neots on Wednesday night for an early run to Drumclog Thursday. There was a long day putting out punches on Mill Rig and Prison Rough in the rain as well as tasks and the hundred other things that have to be placed, put and pushed. As a prize we got to do it all again on Friday and then start dismantling it all again by Sunday. Strangely enough Keith's first sojourn with CoR was in 1992 on an event run by myself and Harry Haigh called the Tartan Trail. He won the clover leaf outright and the event too so that was the start of his career with us. As yet another aside there was also a chap called Nick Pym on that '92 event with a 110 Land Rover on portal axles, the same Nick Pym in the team that just got so close to doing the triple at the Bulldog, small world isn't it? In case any of you didn't know Shona Hartley is my daughter and is proving a dab hand at results and keeping me in check (a trait she's inherited from her Mother) as well as staking claim on the 90 in the not too distant future. Andy Tomlinson of Ruff Tracks fame loaned his generator for our use on Saturday night as well as being available for marshalling if needed. Dickon 'fast finger' Siddall was our official photographer and you should have seen his flyers in your packs in case you want pictures whilst Fiona Richardson covered the event pictorially and I believe in words for LRM. Me? I'm the conductor. I write the music and conduct the orchestra but what emerges is (usually) greater than the sum of the parts thanks to the enthusiasm, dedication and general helpfulness of the aforementioned Redcoats.
Houston: We have lift off.
Back to the plot. The triple was always going to be a hard goal to reach (and lets be straight that was never messr's Pym, Gaunt, Evans and Howes original intention) but fate having put them in that position they rose to the challenge in magnificent fashion, knowing all the while that the only way was down. The trouble with being at the front is that there is nowhere else to go but that didn't faze them at all from what I could see and indeed at Saturday tea time saw them just in the lead, this despite the boggy conditions and their loyalty to the BFG Mud Terrains, which according to logic should have seen them out of contention after Mill Rig. The night event was not quite as planned. The best laid plans saw a printing slip making your copies 1 line difference to mine which somewhat screwed the cunning code breaking exercise for the navigators. My thanks to Steve Grimshaw, a.k.a. 'Piggy', for coming up with an even better idea to keep at least the concept of the exercise alive. Shame he got his impromptu challenge wrong. The actual navigation around Drumclog was a real swine I believe, not helped by misinterpretation of the words 'turn left out of the gate' (I NEVER said you couldn't turn immediately right AFTER turning left now did I?) Eventually everyone found something in Drumclog even if it was only the mother of all bogs, and made their way across to Prison Rough again. I have heard the complaint that it was a treasure hunt, yes but there were pretty led lights on 75% of the punches to light the way so not a blind treasure hunt was it? Easy it wasn't but thankfully nearly everyone made it out in time and those that went OT did come out under their own steam which is always a blessing.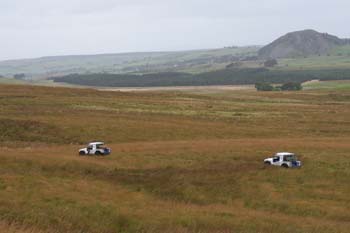 A pair of Tomcats on the trail of the lonesome pine.
What it did do was alter the leader board. At the start of Sunday Team 17 messr's Frost, Frost, Dransfield and Longden were in the lead by 42 points over the nearest rival messr's Buck, Cook (how cool if the names were reversed!) Baskill & Needham. Pym and Evans just 8 points behind, Wightman and Marsden 31 points behind them. Meanwhile on a planet in a parallel universe standard team Matthew Sykes/Tim Frankland & Dave White/ Paul Everett were working diligently and just as hard to keep their place at the top of the standards class. Land Rover 110 and 100" products aren't the most wieldy of beasts but they tackle everything in a professional fashion and their perseverance 9and it has to be said slick teamwork) has paid off two years on the trot now with a standards class win. They pulled into the lead on Saturday and like Schumacher at his best never once looked threatened from the rest of the class. Hopefully the next bit will not lead to accusations of a politically incorrect 'ism but I just have to mention the rather pleasing fact that the Bulldog had its first ever woman driver, Angela Royston on board, in a Jeep no less and with hubby in the hot seat. Teamed with the Jeep crew of Tony and son Phillip Wilson they were never going to be short of Bulldog experience as the Wilson team have tasted success on many of our challenge events including this years Enduro and Team Jeep looked cool customers from what I saw. It was also good to see a pair of Jeeps running together in the Bulldog. Though there are many well prepared examples around we rarely see them on our events.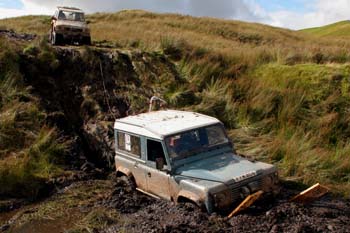 Nick Pym and Giles Evans, winners of the previous two Bulldog Trophies proving they can't walk on water despite rumours to the contrary.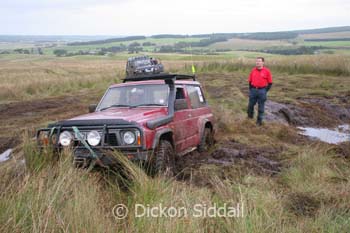 It isn't wall to wall Land Rovers of course. The Massey father and son team on Patrol in the higher reaches of Mill Rig. Patrols are heavy but exceedingly capable in the right hands.
How about the four by four family entry of all time? John and Victoria, John and Rachael Charlton. Familial 4x4! Of course there was what must be one of the most courageous entries ever, father and son team Paul and Mark Massey with Nissan Patrols. To see the big Patrol (dubbed the ark Royal on our last event, or was that Nautilus after his sub mariner activities?) picking its way across the morass that was often the order of the day on Mill Rig brought a tear to my eye. The fact there were two regular CoR marshals on board only made it more appealing. It also proved a point, (one possibly only of any significance to me). It is still possible to enter a recognisably standard 4x4, a big brutal one at that, in the Bulldog and take it home again under its own steam. No it isn't likely to be win much other than sheer admiration, but then the crews knew that and still gave it their all and there was nothing involved that made damage unavoidable though naturally they had to use care and caution at times. Like I said it may only have significance for me but whilst ever my name is one the Bulldog Trophy it will continue in that fashion. The Irish team tent was a sight to behold. More home comforts than many hotels and an atmosphere of sheer indulgent pleasure. One of their number 'volunteered' as a temporary co-pilot on the Saturday when team 23 found themselves down to three men, great spirit. Team spirit went to two teams who, when faced with a problem of our causing chose to deal with it calmly and professionally and have it rapidly remedied, great. It could equally have gone to the Patrol team for unbounded optimism, or to James Robson for not allowing the forced retirement of two potential partners or the lack of a navigator to put him off his goal of entering the Bulldog come hell or high water. Paul Whitton stood in at the last moment to ensure the entry stayed alive. Indeed there was so much Bulldog Spirit that it was washing down the rivers in muddy coloured excess.
Southam tyres were good enough to sponsor the decals for the event (the real McCoy this year you'll notice) and I am grateful for that kindness, particularly the good offices of Alan Baldwin who is the man behind the name.
Keith Hutchings P38? Simon Buck's Bobtail Range Rover? Wet dreams on wheels or perhaps beauty and the beast (choose any combination). Put any of the several V8's we had entered in an aural talent contest and watch them take the prize away. It's almost a hanging offence these days to say it but V8's just have a sound and timbre that will make petrol heads weak at the knees for a few years yet. Tomcats bring a new dimension to the old arguments and I for one can't argue that light weight and nimble should be the way to go, yet the results say otherwise. Neil Redpath's Ibex seems as well sorted as it's possible to be so his diesel V8 is finally tamed to put the power on the ground in a reliable and effective fashion. Yet it fell to two, undeniably smart, but not particularly special looking, Nineties to lead the way home. Doug Dransfield and Karl Frosts motors are far more special than their understated looks would suggest. It takes a bit of time to elicit at least some of the work that has been done to them but what was without doubt was their navigation would, had it been in the RAF, have put them into the coveted Pathfinder status. The old adage to finish first, first you have to finish is still as true as ever. Reliability and relentless hard work saw them through. In 1998 Karl and Doug were newcomers to the sport and CoR and won the Bulldog Trophy that year. Sadly however a CoR scoring error that came to light after the results were posted meant that the scores were re-done putting them into second place and the Bulldog being returned to me. It was not an easy time for any of us involved. To my relief they continued to support our events, when others may have, with some justification, boycotted them. They've now put the record straight in the finest way possible, by winning the Bulldog in such convincing style with what, when all is said and done, is still THE motor of choice for the vast majority of off roaders, the Land Rover 90. Fabulous motors, great atmosphere, worthy winners and off roading that would test anyone with any motor, all of it made in Britain. Till the next time!
There is always a lot of introspection after the Bulldog. What was apparent to anyone who cared to look was the standard of preparation in many teams. Navigation systems that would look more at home on a NASA shuttle than a 4x4. The often arrow straight routes from one punch to another are mute testament to their effectiveness in the right hands. Gearing that makes rock crawlers look like overdrive, bead locking systems, diff locks, strange winch setups that I can only guess at their meaning. In truth I would have loved to have been a spectator at the Bulldog to better check out the vehicles and equipment as well as actually watch what goes on. My role means I see very little but on the Sunday I saw some sublime off road driving that made me realise how poor my own skills are in comparison, equally I saw some driving that quite honestly wasn't even in play day standards. Perhaps it's an aberration because there were no rolls on the event (well apart from some prat in ared coat on a quad who amassed enough roll points to qualify for disqualification) and no accidents to report, that was a welcome sign of a good event.
What of the future? I have always tried hard to keep rules to a minimum which has worked well up to now. However as in all motor sport there are always those who need, want and enjoy pushing the envelope, which of itself is commendable. As an organiser it is my duty to try and keep things within the bounds that I believe are sustainable on my events both from a land damage point of view and ensuring that we don't ever get to a point where one type or size of 4x4 is unbeatable. As of next year, and I appreciate the risk I am taking here in terms of entrants numbers, there will be some rules changes on our challenge events. TYRES. Standards are restricted to 32" tall 11" wide no more aggressive than a Mud Terrain pattern. (Note that isn't insisting on a Mud Terrain pattern just NO more aggressive ) Specials are restricted to 34" high 13" wide, (PLEASE SEE UPDATE ON THESE REGS IN HOME PAGE specials now altered to 35" high 13" wide) patterns are still restricted to no dumper, Satanik, Maxi Cross or Maxi Cross patterns. All events demand that there is only one set of tyres used on each event.
Though we have yet to have a portal axled 4x4 enter one of our events I am aware of their increasing popularity and feel that they do stray beyond what was intended by our 'light 4x4' classification (that classification was done specifically to ensure Unimogs, which have portal axles, couldn't enter). Rather than wait for it to become a problem, portal axles will not be accepted on our challenge events. I genuinely hope that you can all see what is intended by the above. It isn't aimed at any person group or make of motor, it is a real attempt to try and keep this particular sport about the teams working with equipment rather than the equipment with some human intervention.
For Bulldog pictures check out Dickon Siddall's website at
http://www.perry-training.co.uk/bulldog2005gallery/index.htm
Team List
1 Nicholas Pym / Steve Gaunt L/Rover V8 100 PYM 808 Spec
Giles Evans / Paul Howes Foers Ibex 250S G177 MUX Spec

2 Tony Baskill/Dave Needham Merc G Wagen 2 WAB Spec
Simon Buck / Matt Cook R/R Bobtail YH02 NCZ Spec
3 Matthew Sykes / L/Rover 110 B671 TUA Std
Dave White / Paul Everett L/Rover 100 G416 BGS Std

4 Paul Marsden / Darren Hebb L/R 90 300Tdi p/up P382 SUM Spec
Adrian Martin / Paul Martin L/Rover 90 B520 KSG Spec

5 John & Victoria Charlton L/R 90 3.9 K806 SCP Std
John & Rachel Charlton L/R 90 2.5 Tdi P75 XNW Std

6 Mark Massey/Darren McGuiness Nissan Patrol SWB L478 PRB Std
Paul Massey/Steven Grimshaw Nissan Patrol LWB K422 BWO Std

7 Bob Whamond/Jim Smith L/R 100" Spec
Rod Elwood / Keith Garvin L/Rover 90 B713 GCU Spec

8 Stewart Lawson/Derek Massie L/Rover 90 B296 YHD Spec
Phil Birt / Allan Fraser Tomcat 90 D807 DAS Spec

9 Jim Marsden/Jim Gosemeijer L/R 90 200 sv D9 OSV Spec
Paul Wightma /Simon Pearson L/R Hybrid IIa/ RR FPC 479J Spec

10 John Thompson/Dave Heron Tomcat 93 E15 CAT Spec
Stuart Johnson/Andrew Daws Tomcat 90 2.8 Tdi B16 LRT Spec

11 Alan Wormald/Robert Philipson Jeep Wrangler R40 USA Spec
Richard Ibberson/Vicky Heywood Foers Ibex R439 CET Spec

12 Jonathan Wood/Steve Goddard Suzuki Jimny SL03 2NG Std
John Pickles / Andrew Atherton L/R 90 B285 XBA Std

13 Keith Hutchings/Martin Levington R/Rover P38 R22 MSG Spec
Graham Potter/Mike Hemingway Foers Ibex Q545 DDC Spec

14 Bob Seaman/John Jennings L/R Defender 90 R50 MUD Spec
Andy Chaplin / Shaun Harris L/R Defender 90 L740 TVF Spec

15 Mervyn Colton/Malcolm Cooper Tomcat 90 84 LD3 Spec
Ivor Clegg / Edwin Pratt Tomcat 90 84 LS 396 Spec

16 Angela Royston/Kevin Royston Jeep Wrangler J33 PKR Spec
Tony Wilson / Philip Wilson Jeep Wrangler W118 NDE Spec

17 Doug Dransfield/David Longden L/R D 90 300Tdi R429LVL Spec
Karl Frost / Dale Frost L/Rover Td5 K4 BLF Spec

18 James Iball / Kingsley Iball L/Rover 90 300 Tdi M457 AEC Std
Matt Blakey / Mark Riley L/R Def 90 LC53 OSN Std

19 Simon Madgwick/Chris Morris L/Rover 90 Tdi SIB 4645 Spec
Gary Smith / Paul Booker L/R 90 WWB 731L Spec

20 Nick Parkes / Paul Colton L/R 90 A542 BSC Std
Matthew Tate / Mark Roy L/R 90 ONW 70B Std

21 Jamie Beet/Richard Howells L/R 90 truck cab A875 WFE Std
Jason Garrett/Sebastian Garrett L/R 90 truck cab D109 0UA Std

22 Neil Redpath / Patrick Smart Ibex 250 R11 BEX Spec
JJ Kealy / James Feeney L/R 90 Spec

23 James Robson / L/R 90 200 Tdi L828 OUA Std
Paul Whitton L/R 90 300 Tdi Std
Bulldog Trophy Winners , the Top Dogs.
Doug Dransfield/David Longden 90. Karl Frost/Dale Frost 90. 945 pts

1st Specials class
Tony Baskill/Dave Needham G Wagen Simon Buck/Matt Cook 853 pts
2nd Specials Class
Neil Redpath/Patrick Smart Ibex JJ Keely/James Feeney 796 pts
3rd Specials Class
Nick Pym/Steve Gaunt 90 (100") Giles Evans/Paul Howes Ibex 790 pts
4th Specials
Jim Marsden/Jim Gosemeijer 90 Paul Wightman/Simon Pearson L/R hybrid 699 pts
1st Standards (8th overall)
Matthew Sykes/Tim Frankland 110 Dave White/Paul Everett L/R 100 554 pts
2nd Standards
James Iball/Kingsley Iball 90 Matt Blakey/Mark Riley 90 363 pts
Steve Maddison Bulldog Spirit awards; (2 winners)
Phill Birt/Alan Frasier Tomcat 90 Stewart Lawson/Derek Massey 90
Jamie Beet/Richard Howells 90 Jason Garrett/Sebastian Garrett 90